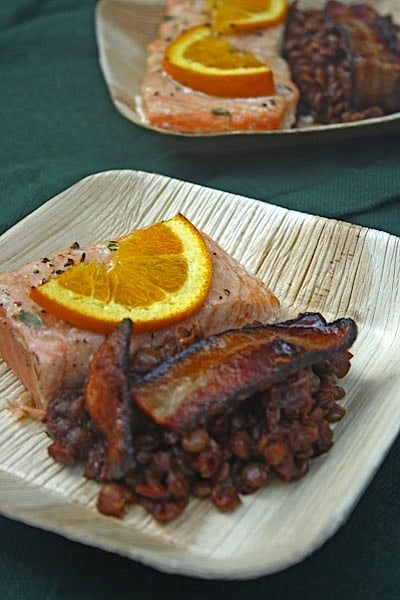 Lentils are healthier, right? They don't taste that way with bacon on top, but it was sure delicious.
Ingredients:
1 cup dry lentils
2 cloves garlic, sliced
1 cup pomegranate juice
2 Tbs tomato paste
1 Tbs molasses
1/2 tsp dry mustard
1 tsp brown sugar
2 chipotles in adobe, chopped
1 Tbs adobo
3 slices bacon, preferably applewood smoked
Preparation:
In a large pot, combine the lentils and 3 cups of water. Bring to a boil, then reduce and let simmer for 30 minutes or until the lentils soften.
Meanwhile, prepare your sauce: Heat olive oil and garlic in a medium skillet and cook until garlic softens. Add next 7 ingredients (through adobo) and whisk to combine.
Bring to a simmer and let reduce for 10-15 minutes, or until it becomes thick enough to coat the back of a spoon.
Combine the lentils and sauce in a small baking dish. Arrange the bacon in a single layer over the top. Bake at 350 for 30 minutes, or until bacon has crisped up and sauce has become very thick.
Serves 4.
Approx. 160 calories, 3 grams fat, 5 grams fiber, 7 grams protein
Note: I only used one chipotle pepper and it was plenty hot for me. Also, I don't know how many of you buy those peppers in Adobo sauce, but I've always just kept the leftovers in my fridge and thrown it out when they go bad. Now I freeze them and have used them 3 times!
Source: Food Buzz